THE ULTIMATE COVERALL, FOR WHEN IT GETS SERIOUS.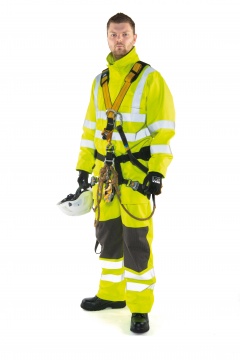 As you'd expect from a coverall trusted by professionals worldwide the RO1512 Stormbuster Classic Waterproof Coverall meets all the criteria to protect you in the most demanding situations. Every component is designed for performance. So you can focus on your work without having to worry about whether or not you are protected.
The RO1512 redefines comfort and offers versatile solutions for everyday irritations that one normally had to take for granted. We redesigned all basic characteristics for a coverall in this class with direct input from professionals in the Wind Power industry. In some areas, it almost goes without saying, a specially designed waterproof hood to be worn underneath any hard hat alleviating the traditional annoyance and safety concerns of an obstructed view.
Features and benefits
Our design focus is the safety of your workforce. That's paramount. This also means that the garment you wear should not annoy you with little disturbances that may jeopardise your safety and the safety of everyone around you. Our garments offer far more comfort than most other competing products. The RO1512 has abounding safety and comfort features that were engineered to reduce fatigue, enhance visibility, control comfort, and much more! No matter the task, the RO1512 is up to it!
Waterproof hood
Specially designed waterproof hood for use underneath any hard hat, alleviating the traditional annoyance and safety concerns of a 'blocked view'
Venting zippers
Waterproof zippers for regulating cold / warm air. This ventilation is cleverly positioned under the armpits. That way you get the most comfort.
Neoprene cuffs
Waterproof cuffs made from neoprene to prevent water leakage whilst working overhead.
THERE IS MORE TO IT!
Flame retardant retroreflective tape - be visible no matter how harsh the situation
Two loops for gas detection and/or radio - accessories within reach
A chest pocket - easily store accessories
Waterproof, windproof and breathable - the perfect combo to protect against the elements
Mandarin collar - fully protect the neck
Oversized Kevlar knee pad pockets - durable knee pockets that last a lifetime
Concealed trouser access with waterproof zipper
Two oversized cargo pockets on thigh - accessible when wearing a fall arrest harness
Two back pockets
Concealed zippers in legs for easy access with safety boots
Available in hi-vis yellow and orange
Ticking all boxes!
The RO1512 is the pinnacle of waterproof FR workwear that offers comprehensive protection against any level of arc hazards. A truly remarkable piece of engineering went into the RO1512.
| | | | | | |
| --- | --- | --- | --- | --- | --- |
| | | | | | |
| EN 1149-5:2008 | EN ISO 14116:2008 Index 3/50H/40 | EN 13034:2005 + A12009 Type 6 | EN ISO 20471:2013 Class 3 | EN 343:2003 + A1:2007 3/3 | EN ISO 13688:2013 |
Available colours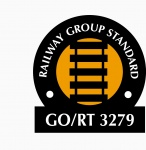 The RO1512 Stormbuster Classic Waterproof coverall is available in two colour options; a full yellow hi-vis and full orange hi-vis complying with the high visibility GO/RT 3279 safety standard. This standard is a UK only standard that ensures the sufficiency of visibility of those who work on or near the rail trackside.