ELECTRIC ARC PROTECTION
Based on the NFPA 70E Standard
NFPA 70E is a framework that aims to protect and ensure the safest possible work environment in the electrical industry. This Anglo-Saxon model has been existing for decades and has been upgraded in accordance with the state of todays' technology. The last update was in 2015. Ppe are part of this extensive programme.
According to the model, ppe are selected after risk assessment that is designated on the potential severity of the arc hazard. The method for assessment that is often used is the so-called 4P method, that was originally introduced by DuPont.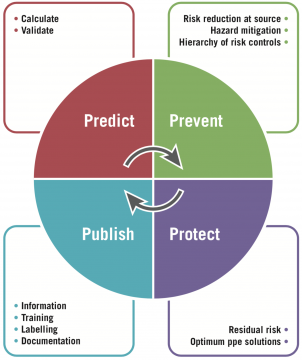 After the risk assessment has been performed in the Predict-phase and measurements have been carried out in order to minimise the hazards at the source, the workplace will be subdivided in areas with a specifc risk classifcation, so-called HRC (Hazard Risk Category). We call this ARC categories.
Following table will clarify the different HRC/ARC levels:

According to the above table there are 4 protection levels, that can be determined by the expected incident energy at a certain workplace. In order to be able to advise the correct ppe and protective workwear it is obviously important to know the level of protection, expressed in cal/cm2 , that can be expected from a garment or layers of garments.
In order to give appropriate answers to this question 'open arc' testing is inevitable.
MEET OUR SPECIALISTS
As specialists in Arc Flash and FR protective clothing we love to help make a complicated topic easy to comprehend. Our experts are at your disposal to discuss individual cases within all sectors. After all, we don't just claim we know your business, we actually do.
Ad van Nieuwkerk
Sales Director

Scott Tonkin
Sales Manager UK