Hepta Inherent 270 Hi-Vis Jacket - Ladies Fit
RO27190HVF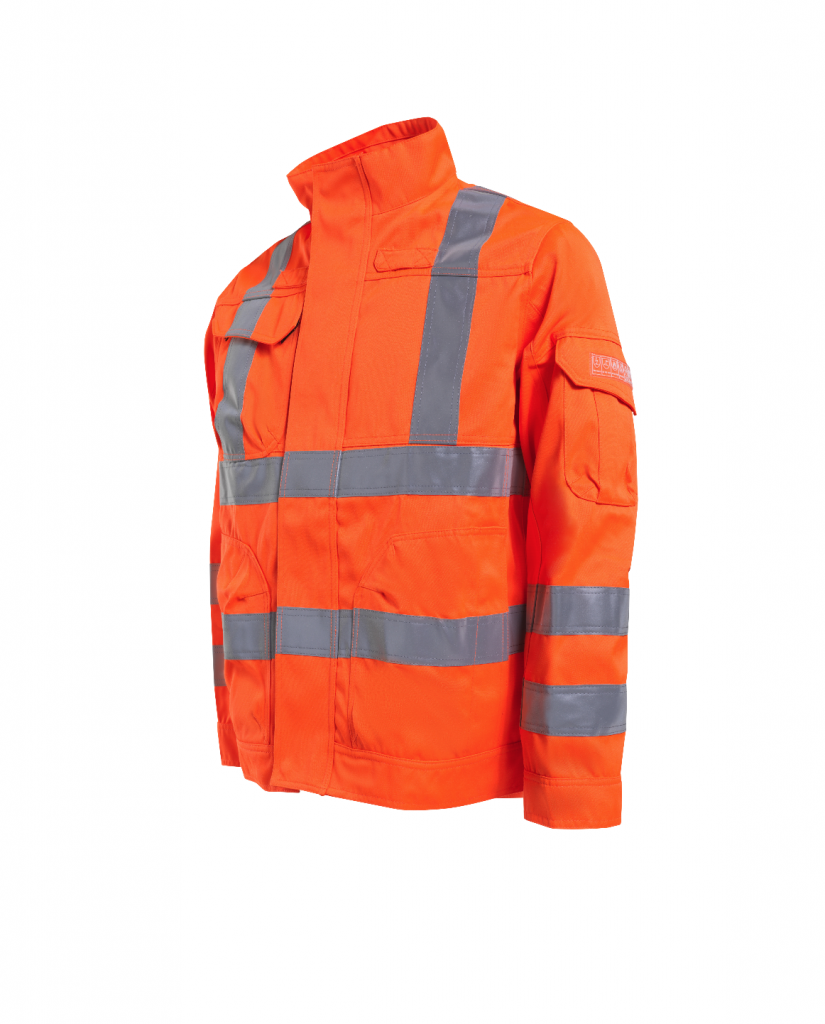 Shrinkage

Shrinkage

<3%


---

Fabric features

Fabric features

High strength (Martindale 20.000 T)
Lightweight 270 g/m2
Rail certified RIS-3279-TOM
Breathability (Extra wearer comfort)
Great longevity (Lasts 100 wash cycles)
UV-Protection (UPF Rating 50+)


---

Ladies fit

Ladies fit

Yes


---

FR fabric type

FR fabric type

Inherent


---

Fabric composition

Fabric composition

Hepta 270
Polyester 34%
Lenzing FR® 25%
Kermel® 19%
Modacryl 13%
Para-aramid 5%
Polyamide 3%
Carbon 1%


---

Fabric weight

Fabric weight

270 g/m2


---

Available colours

Available colours

Hi-vis Orange
Hi-vis Yellow
Hi-vis Red


---

Inside leg length

Inside leg length

Short (29")
Regular (31")
Tall (33")


---

ARC Level

ARC Level

ARC 2


---

Conforms to

Conforms to

EN 1149-5:2018
EN ISO 11611:2015 A1 Class 2 (A1=100 washing cycles)
EN ISO 20471:2013 +A1:2016 Class 3 (100 washing cylces)
EN ISO 11612:2015 A1 B1 C1 D0 E0 F1 (A1=100 washing cycles)
EN IEC 61482-2:2020 APC 1 ELIM 6,4 cal/cm2 ATPV 8,1 cal/cm2
EN 13034:2005 +A1:2009 Type 6
RIS-3279-TOM Issue 2 2019 Orange only (100 washing cylces)
ISO 6330 Domestic laundry 100 wash cycles
ISO 15797 Industrial laundry 100 wash cycles


---

Benefits & features

Benefits & features

Flame retardant retroreflective tape

Central nylon YKK zip, press studs at the top

Chest pocket with flap

2 patch pockets

Side handwarmer access

Pen pocket on the left sleeve

A true ladies fit

---

CE Certificates

CE Certificates

hvfrach-14 0120_PPE_221155 Issue 1_2022_10_24_SGS.pdf


---

Declaration of Conformity

Declaration of Conformity

ukca doc hvfrach-14 rev 01 20221026.pdf


---

Files

Files

20201113 - Hepta Inherent 270 - Information Leaflet.pdf


---

Product Data Sheets

Product Data Sheets

RO27190HVF HEPTA Inherent 270 - PDS Rev 2201 - 20220425.pdf

Hepta® Inherent 270
Hepta® 270 was developed with a singular purpose: to enable professionals to do their most demanding work without compromise.
Inherent flame retardant protection. Certified for 100 wash cycles.
Extremely visible. RIS-3279-TOM certified.
2 Incredibly lightweight. Merely 270 g/m.
Highly breathable for extra comfort.
7 fibres. 7 norms.
Designed to push the limits for demanding flame retardant and arc flash protective garments. It includes 7 different fibres and certifies to 7 different safety standards. Hence, Hepta®, Greek for 7, serves its name purpose. When exposed to excessive heat and flames, the fabric creates a 'blister'—similar to the human skin. Except that this blister is created on the inside of the fabric forming a protective shield. Hepta® provides outstanding welding performance, it is certified as a Class 2 protective fabric. That's truly remarkable for an inherent flame retardant fabric at 270 g/m2. The fabric also features exceptional tear, tensile and abrasion strength. It scored a whopping 25.000 T on the Martindale test.
Hepta and the Environment
We design our products to be safe and long-lasting. When products are used longer, fewer resources are extracted from the earth, reduces your ecological footprint and positively impact your cost of ownership too. Hence, we pushed the Hepta® 270 fabric to be certified for 100 wash cycles. That's unparalleled.
102 L water saved (per kgs)
1,466.7 KG CO2-emissions reduced (per kgs)
95% Fewer chemicals used (per kgs)
It goes without saying that we take incredible responsibility for our products throughout their life cycles. We focus on safety and our impact on the environment. The Hepta® 270 fabric is produced under the OEKO-TEX® STeP label. Which means the entire production from fibre to weaving/knitting is executed sustainably. We are proud to report that Hepta® is produced colourants-free, FR-finishing-free saves 102 litres of water (per kgs) compared to cotton treated, and uses 346,8 litres of chemicals (per kgs) less than cotton treated.