FOR WOMEN INDUSTRY, THE PERFECT FIT

At ROOTS, our customers' trust means everything to us. We will never stop working to earn and maintain it through the development of garments that guarantee best in class safety performance for its wearer. No matter size, gender or gender our products provide you comfortable Arc Flash protection.
FINDING THE PERFECT FIT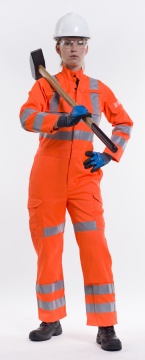 Due to the lack of right fitting women's garments, we noticed ladies being tempted to purchase small-sized men's workwear as a compromise. Which lead to poorly fitted workwear – something that can be exceptionally hazardous in the workplace. The problem with oversized clothing is that it often leads to accidents whereby clothing is rolled up around the legs or sleeves. This easily gets trapped around machinery.
This acknowledgement empowered our designers to craft a selection of female fit range that's worn in all industries: e.g. offshore, rail, utility, transportation and construction. Based on our experience and brand loyal users around the globe we invited women from all kinds of industries to work together with us to find the perfect fit. Designs are meticulously tailored to the women's feedback ensuring comfortable, reliable, practical and above all a true ladies' fit.
MORE AND MORE RANGES LADIES FIT
Unlike other flame retardant workwear manufacturers we have been committed to providing protective garments to all. This is especially evident in the special-sizing, -fits and tailoring options we offer. Our first ladies fit coverall dates back a few years. This strong commitment drives us to continue adding ladies fit garments in all our product ranges.
Have a buzzing question?
Get in contact, we'd love to help you.

Call our hotline or send us an e-mail at info@roots-original.com