MEET THE NEXT GENERATION OF FLAMEBUSTER.
More Safety, more comfort, more features, more value for money.
Ever since the birth of ROOTS in 2004, we have continuously strived to offer the best in class coverall on offer in the marketplace and educated our end-user clients on correct garment maintenance along the way. The ROOTS coverall became known as Flamebuster.
Now; over a decade later, we see the results of our hard work.
Both operators, as well as contractors, nowadays recognise the importance of a good laundry program on oil rigs, platforms and vessels. But more importantly, the quality of the product has increased over the past 10 years. Starting as a newcomer in the oil & gas market, ROOTS is now one of the leading brands, even in such a way that other brands are simply forced to upgrade their product ranges. For example, we now witness the implementation of antistatic properties with a number of other brands. The unique selling points with which ROOTS started over 10 years ago are now generally available. This is good news, especially for the offshore workforce. But 10 years on, it is now time for the next major step. Why? Because this is our pledge as described in our mission statement.
Apart from an unprecedented fabric, we also made some very relevant design changes.
New shoulder construction with the possibility to wear shoulder pads. In order to increase comfort, we removed the shoulder seam. Most of our wearers use safety harnesses. A shoulder seam is a pressure point that could irritate the skin underneath, or do even more harm when things like scaffolders pipes are carried on the shoulder. As a separate item ROOTS designed two types of shoulder pads in order to get the maximum benefit from this new construction.
As a standard, all Flamebuster2 coveralls will we be issued with two-tier knee pad pockets. ROOTS can also provide the customers with the appropriate knee pads.
As a standard, all Flamebuster2 coveralls have a double radio loop.
As a standard the Flamebuster2 coveralls are now fully non-metallic, thus providing more safety.
ROOTS changed the elasticated waistband from wrinkled to positioned in a tunnel for more wearer comfort.
As a standard Flamebuster2 will come with a genuine SHORT size as well as a genuine ladies' fit.
Flamebuster2 Shoulder Construction
The new shoulder construction allowing insertion of our perforated and non-perforated shoulder pads for more comfort and protection against injury.
Knee pad construction
The standard-fitted 2-tier knee allowing wearers to place ROOTS knee pads 2 inches down for more comfort.
Non-metallic
Non-metallic studs and not metallic zips for more comfort and durability. The non-spark nylon spiral zip design puts an end to broken zip teeth.
Elasticated waistband
New elasticated waistband construction allowing the wearer a free range of motion and more comfort.
So what is the big deal?
With the launch of the Flamebuster2, we have also introduced our new fabric 80% cotton +19% polyester + 1% antistat. So what? Every respectable and not so respectable weaver nowadays has a blend like this, cotton rich 80-20. The difference in performance and quality between the ROOTS 80-20 and any other fabric in the market is in fact incomparable. If making an ultra-high performance fabric would only lean on the blend of 80% cotton and 20% polyester into a yarn,…job done, ROOTS would never make such a big deal out of it. The fact is that the entire chain, in order to produce this fabric, from fibres, spinning, construction, weaving, mercerising and sanforising… every phase is 'special' and different from what is regarded as 'normal'. All of this to get to the real secret of this ROOTS masterpiece of fabric, which is the extremely high density. The result of this high-density fabric is not only a superior shrinking performance but also providing fantastic safety and comfort. Just like the customer would expect from our company.
LESS SHRINKAGE + MORE DURABILITY + SUSTAINABILITY
The Flamebuster2 coverall has the lowest shrinkage percentage of the Oil & Gas market. ROOTS Flamebuster2 passes the demanding EN ISO 13688:2013 Industrial Laundry test. This test requires a shrinkage of less than 3% after 5 cycles of washing at 75°C and with a tunnel drying temperature set at 155°C. Take into account that every other coverall in today's O&G market has a maximum washing temperature of 60°C, followed by a drying temperature of 50°C. The new Flamebuster 2 Fabric conforms to the very demanding Öko-Tex Standard 100 certificate.
Best in class fabric!
The Flamebuster2 fabric is the best fabric we have. period. Outperforming its predecessor in every category and offering the high standard of safety by conforming to the numerous strict safety standards.
EN 1149-5:2008
EN ISO 11612:2008
A1 B1 C2 D0 E3 F1
EN ISO 11611:2007
A1 Class 2
IEC 61482-2:2009
ATPV 10,2 cal/cm2 Class 1
EN 13034:2005+
A1:2009 Type 6
Body Burn Prediction.
EN ISO 11612, the standard for limited heat and flame spread, offers garment manufacturers the 'option' to test their garment on a manikin' during a 3-second flash fire. The test gives a skin burn prediction around the body whilst covered by a Flame Retardant garment. In general – hardly any manufacturer of FR garments bothers because it is not a mandatory test.
At ROOTS we strongly believe that the 'normal' EN ISO 11612 A1 or A2 test is a very basic test to validate FR fabrics, but without giving any prediction on how fabrics would perform during an actual flash fire.
For that reason, ROOTS takes this optional manikin test extremely seriously. ROOTS test every FR garment design for 4 seconds on a manikin and by doing so, this extra second generates an extra 30% of heat energy. ROOTS garments are tested independently by a certified testing institute and we provide all of our existing and potential customers with the test results.
NFPA 0% Bodyburn
The holy grail of FR protection is a body burn prediction of 0%, meaning that in the event of a flash fire the garment will protect you to such a degree that walking away without permanent injury is a real possibility.
We are proud to show that the Flamebuster2 has managed to attain that holy grail score that even we previously deemed out of reach, a 0% body burn prediction on the NFPA 2112:2018. With a combined predicted first, second and third-degree burn injury area of 0% and only a 0.9% pain injury area we can safely say that this is one of our biggest achievements yet and is yet more proof that the Flamebuster2 lives up to its name.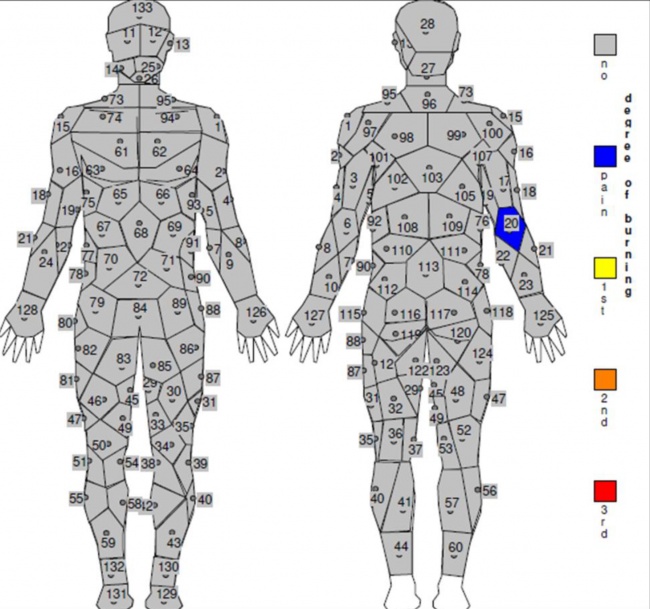 The proof is in the fabric.
Conforming to the standards is just a start.
The following tests are always carried out with respect to the Flamebuster2 fabric;
Fabric shrinkage after 5 cycles washing at 75°C and tunnel drying at 155°C (industrial laundry demand) + 45 washing cycles at 75°C and tumble drying at 80°C. This demanding tests; in fact going beyond offshore reality has never been witnessed for O&G coveralls.
Fabric flame retardancy after the above mentioned 50 washing /drying cycles.
Fabric tear strength after 5 washing /drying cycles.
Fabric tensile strength after 5 washing /drying cycles.
If the shrinkage after 5 cycles is +3% ROOTS rejects the fabric. If Flame retardant properties fail after 50 cycles of washing/drying ROOTS rejects the fabric. If tear and tensile strength are outside the strict ROOTS demands, the fabric is rejected. Furthermore, all Flamebuster2 products are fully non-metallic. This is part of our commitment to protect the wearers against electric arc flash hazards. At ROOTS we claim that 'We know your business' and we know that brass zips have been around since the beginning of offshore coveralls. The nonmetallic zips in Flamebuster2 have been in use in the European Utility Industry for many years, and are fit for the offshore job.

All of this testing and development has to go into the fabric resulting in what the Flamebuster2 is today, the benchmark for FR rated workwear.