EN 343:2003 + A1:2007
PROTECTIVE CLOTHING - PROTECTION AGAINST RAIN
This European Standard specifies requirements and test methods applicable to materials and seams of protective clothing against the influence of precipitation (e. g. rain, snowflakes), fog and ground humidity.
The testing of rain proofness of ready made garments is excluded in this standard at this time because a separate test method for such a property is currently being prepared.
(EN 343 is the European standard for protective clothing against rain (snowflakes, fog and ground humidity.) Two values (X-X) are indicated in the description of the EN 343 standard. Both scales values range from 1-3, where 3 is the highest class. The first X indicates waterproof rating and the second X indicates the material's ability to conduct moisture and sweat away of the body.)

ROOTS Stormbuster
Roots Stormbuster - superb water repellency, the best breathability & uncompromised safety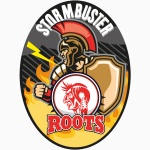 ROOTS Stormbuster, the pinnacle of waterproof FR workwear. The Stormbuster range is divided into Stormbuster Classic and Stormbuster Contractor, offering a complete package of the best of the best in FR waterproof workwear.